"The conservative voice of Liberal, Oregon!"
---
---
---
AMT3000
Low Power AM Broadcast Radio Transmitter
The AMT3000 by SSTran is a low cost, professional quality transmitter design. The basic Transmission range of a low power, FCC Part 15 compliant transmitter is about 50 to 200 feet range depending on local conditions.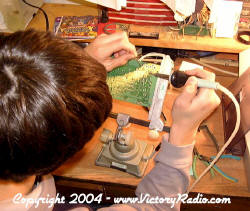 Fig.2 - John (age 14) Soldering
Our Next project is to construct a Part 15 compliant outdoor vertical antenna and loading coil. With this antenna installed at about 30 feet off of the ground, we are hoping to extend out coverage area to about 2 miles. The antenna design that we are using is found by clicking here.
---
---
---
[ Home Page ] [About Us] [Technical Info]
[Broadcast History Links] [Old-time Radio Shows]
[ Company Operated Radio Station Histories ]
The Victory Seed Company
"Preserving the past, one seed at a time"